How Digital Marketing Can Amplify the Effectiveness of Your Direct Mail Campaign

How Digital Marketing Can Amplify the Effectiveness of Your Direct Mail Campaign
We've heard over and over that we've moved into the digital age. Social media, search engines, and other digital marketing efforts are paramount, while spending on traditional marketing efforts has waned. However, digital marketing is becoming such a saturated space that it is more and more challenging to capture consumers' attention. People often spend mere seconds on a website before moving elsewhere and tend to continuously quickly scroll through social media, meaning that a digital ad receives about 0.7 seconds of attention.
So, what can you do to get your brand to break through the clutter to reach new consumers? Combine digital channels with traditional tactics, like direct mail, to create an ideal omnichannel experience using a combination of physical and digital strategies.
One of the benefits for marketers to come out of the COVID-19 pandemic is that people, trapped in their homes for weeks on end, started to look forward to catalogs and postcards with offers again because it became a treat. According to one survey, 82 percent of direct mail is read for a minute or more. COVID-19 made direct mail marketing relevant again.
When combined with supplemental digital marketing, we have found that direct mail campaigns are 23–46% more effective than stand-alone direct mail campaigns.
Combining the old, traditional method of direct mail with new digital marketing technologies is delivering tangible results in the form of increased conversion for our clients. Let's explore why.
Download a PDF version of this guide by filling out this form, or keep scrolling to learn more.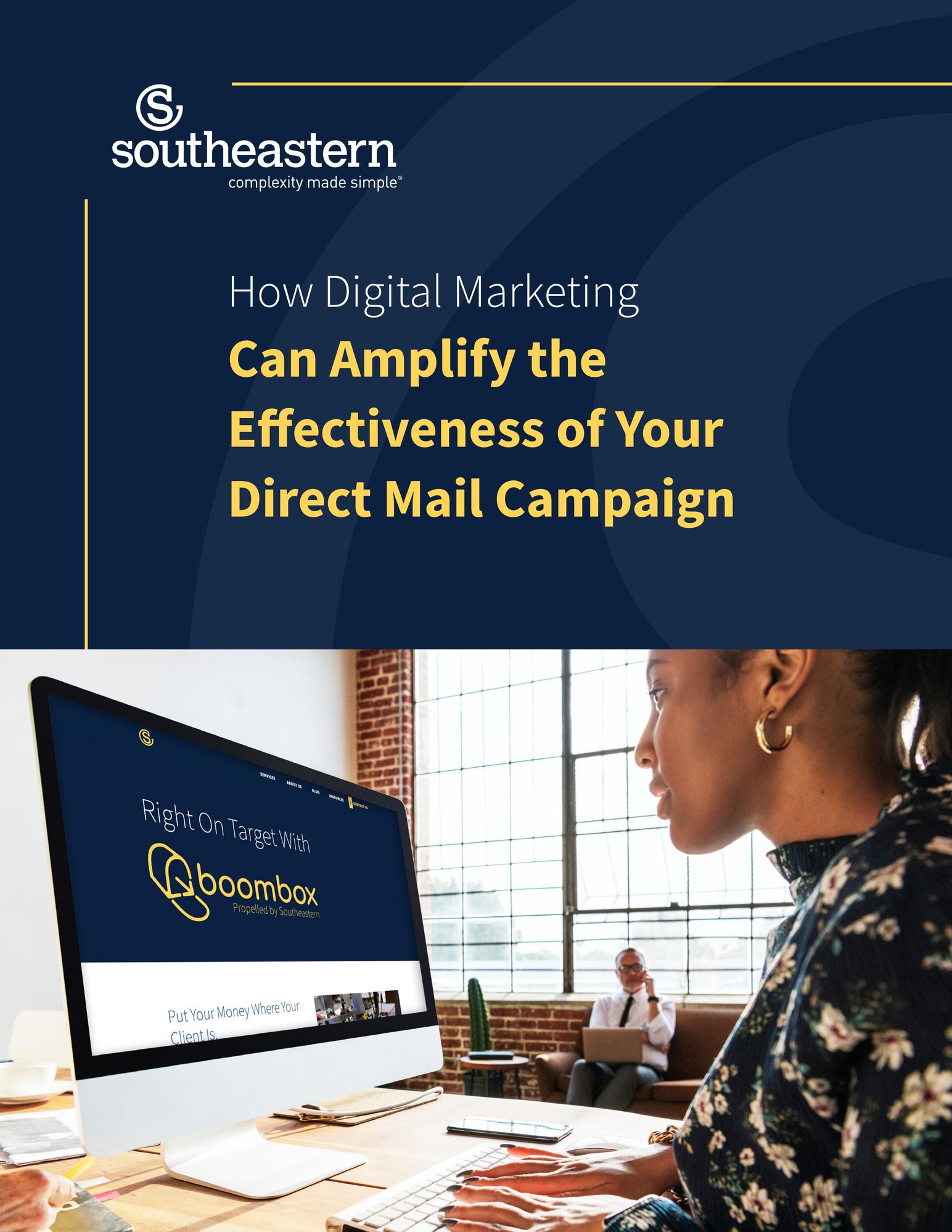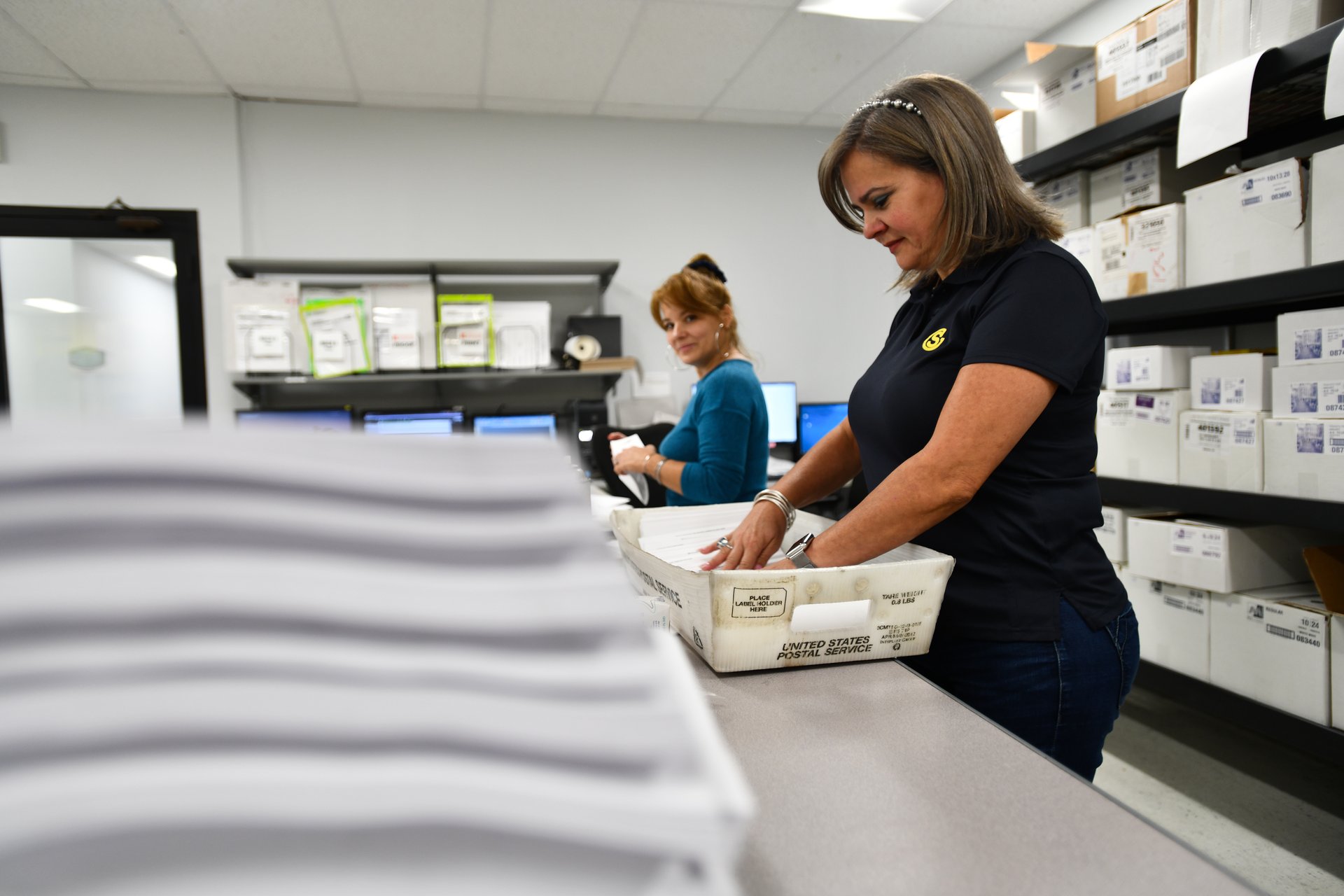 Chapter 1
Change the Direct Mail Marketing Game
Direct mail, when combined with supplemental digital marketing, is a powerhouse campaign. In fact, 60 percent of marketing respondents surveyed by the United States Postal Service (USPS) said that the combination of direct mail and digital channels increased return on investment. Let's take a closer look at how direct mail and digital marketing creates a powerhouse campaign.
Prospect Retargeting
Digital marketing overlays can enhance the effectiveness of a direct mail campaign by enabling retargeting of prospects. Retargeting is an underutilized way to help your business close some of your warmest leads—people who visited your website to learn more about you but, for whatever reason, didn't convert at that time. Consider this: The average website conversion rate is only 2-4 percent. This means you can be doing much more to encourage conversions that would otherwise slip away.
For example, if a prospect responded to your direct mail campaign by visiting your website but didn't convert, technology will match their device ID, IP address, and cookies to their mailing address so they can be retargeted through personalized direct mail marketing that's tailored to the actions the prospect took on your website.
Website actions that can trigger direct mail retargeting include:
A past customer visiting your website
A customer leaving your website with items still in their shopping cart
A customer viewing product pages
A customer downloading brochures, infographics, or other marketing collateral
A customer signing up for an email or newsletter
Actions such as those listed above are strong indicators that a consumer is interested in your product or service. The direct mail retargeting campaign then steps in to push them closer to completing their desired action or purchase with an offer tailored directly to them. One of the keys to this is variable printing. The key to this is variable data printing.
Variable Data Printing
Variable data printing is a powerful tool that allows you to customize individual direct mail pieces, creating materials that provide the personalized experience consumers crave. Instead of sending hundreds or thousands of the exact same mailer to each prospect, you can create that many customized pieces—and in the same amount of time!—as the generalized campaign.
It's important to remember that variable data printing is tailored to what the consumer knows they need or want—not what you think they want. For example, instead of a generalized direct mail piece being sent to the prospect, you can send one that captures their attention more by highlighting an item they put in their cart or a page they viewed on your website. Then, drive them to complete their desired action by also offering a unique coupon code on the mailer so that you can track conversions.
Pro Tip: Take the time to learn what your consumers want and need. Approximately 60 percent of customers are likely to be repeat customers because they had a good, personalized experience.
Resources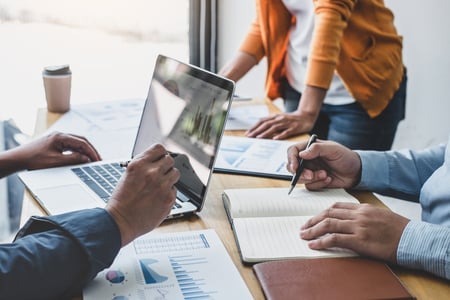 Personalized materials can work in every industry, and the process isn't as hard as you may think. Take a look at what variable data printing is and how it can help customize your marketing strategy.
Read More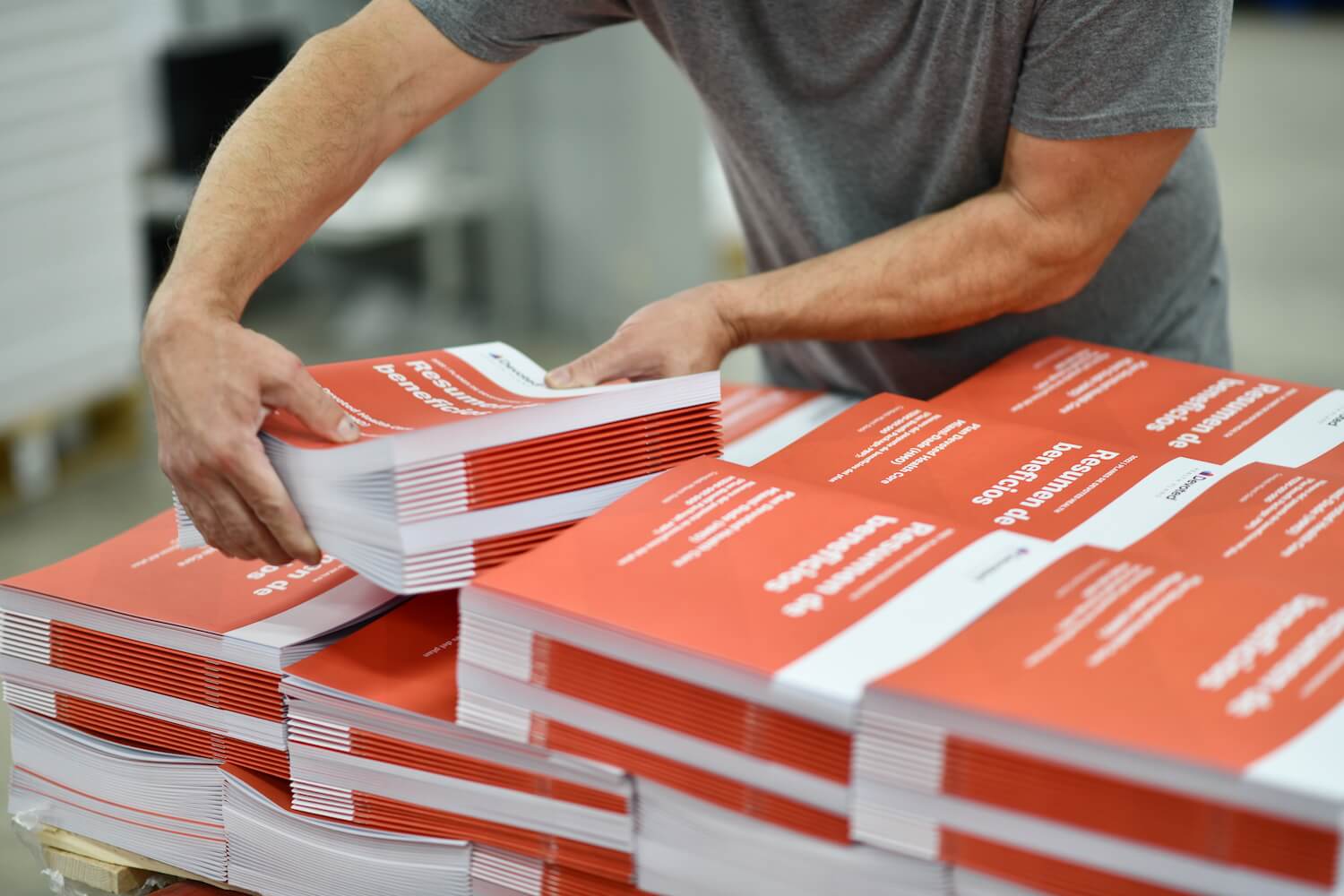 Chapter 2
Your Marketing Campaign—Amplified
The future of direct mail marketing is here. Our boomboxTM direct mail solution introduces the full power of customized digital integration through a full-service suite that integrates social media, Google Discovery, and YouTube ads in addition to mail tracking, USPS Informed Delivery®, and more to maximize visibility.
Amplify your direct mail campaign with our robust boombox standard features, including:
SocialMatch
Prime your target audience before, during, and after your direct mail campaign pieces arrive in their mailbox. With this feature, you can increase conversions by matching Facebook and Instagram accounts to your mailing list and then delivering social media ads to their feeds.
Pro Tip: Matching social media accounts with your mailing list has about a 40–60 percent success rate.
Mail Tracking
With our mail tracking feature, you'll know exactly when your direct mail campaign hits mailboxes. You can also export your delivery lists and receive non-scan data down to the individual mail piece.
QR Codes
Looking to further increase engagement? Add a QR code to your direct mail marketing.
Along with direct mail, QR codes experienced a huge boost during the COVID-19 pandemic. Businesses needed to find unique solutions for a touch-free society, and QR codes were the answer. Since then, the use of QR codes has continued to skyrocket, and it's no wonder—they provide plenty of data, making data collection quite simple. For example, in 2022, 89 million people in the United States scanned QR codes—an increase of 26% compared to 2020.
With a dynamic QR code, you can learn where the consumer is, how they interacted with the code, the number of scans, the time and date of the scan, and what the end result of it was. This is highly beneficial for further targeted marketing campaigns.
Informed Delivery
Add another touchpoint to your marketing campaign. With Informed Delivery, a preview of that day's mail from USPS is sent to your target audience's email addresses.
This elevates your prospective customer's journey and adds another digital component to your direct mail campaign. You'll also be able to review detailed reports about the number of emails that were sent and opened and the number of click-throughs.
Pro Tip: The USPS frequently has postage discounts with Informed Delivery—check with your rep for current discounts!
Call and Text Tracking
Once you create and send out a campaign, it's important to know how it's performing. With call and text tracking, you can seamlessly track the effectiveness of your campaign by recording each call that comes in as a result of your direct mail campaign. With this call tracking feature, you'll also capture the demographic information, name, and address of callers when available.
Call and text tracking gives you the additional opportunity to engage with consumers and drive more conversions by delivering coupons and URLs through SMS from the same call tracking number.
Online Follow-Up
Worried about consumers leaving your website without taking action? With online follow-up, individuals who leave your website without taking action will be retargeted. Your ads will show up throughout the Google network for 30 days after the mail piece is sent and direct prospects back to your website.
Social Media Follow-Up
Keep your brand top of mind. With our social media follow-up feature, your follow-up ads will be placed in front of your prospects in their Facebook and Instagram feeds for 30 days after the mail piece is sent. The familiarity of the ad across multiple platforms will capture their attention.
LEADMATCH
Wouldn't it be nice to know who visits your website and what actions they take? With LEADMATCH, you can! You'll receive a list of who visits your website and the actions they take, whether or not they're on your mailing list.
LEADMATCH searches for the correct physical address for each visitor to your website and tracks the specific history of which pages the visitor spent time on. You can also choose to supplement the physical address with the lead's email address or phone number, giving you the power to choose when and how you follow up.
Data
With our boombox platform, you'll have access to a dashboard that will display real-time data about your campaign performance. Find out which ads are working and not working and dig into why to create more effective messaging. For example, if your marketing campaign is attention-grabbing but is reaching the wrong audience, you'll be able to dig into this information in your dashboard. You'll also have the data you need to adjust your marketing campaigns when needed to improve conversions.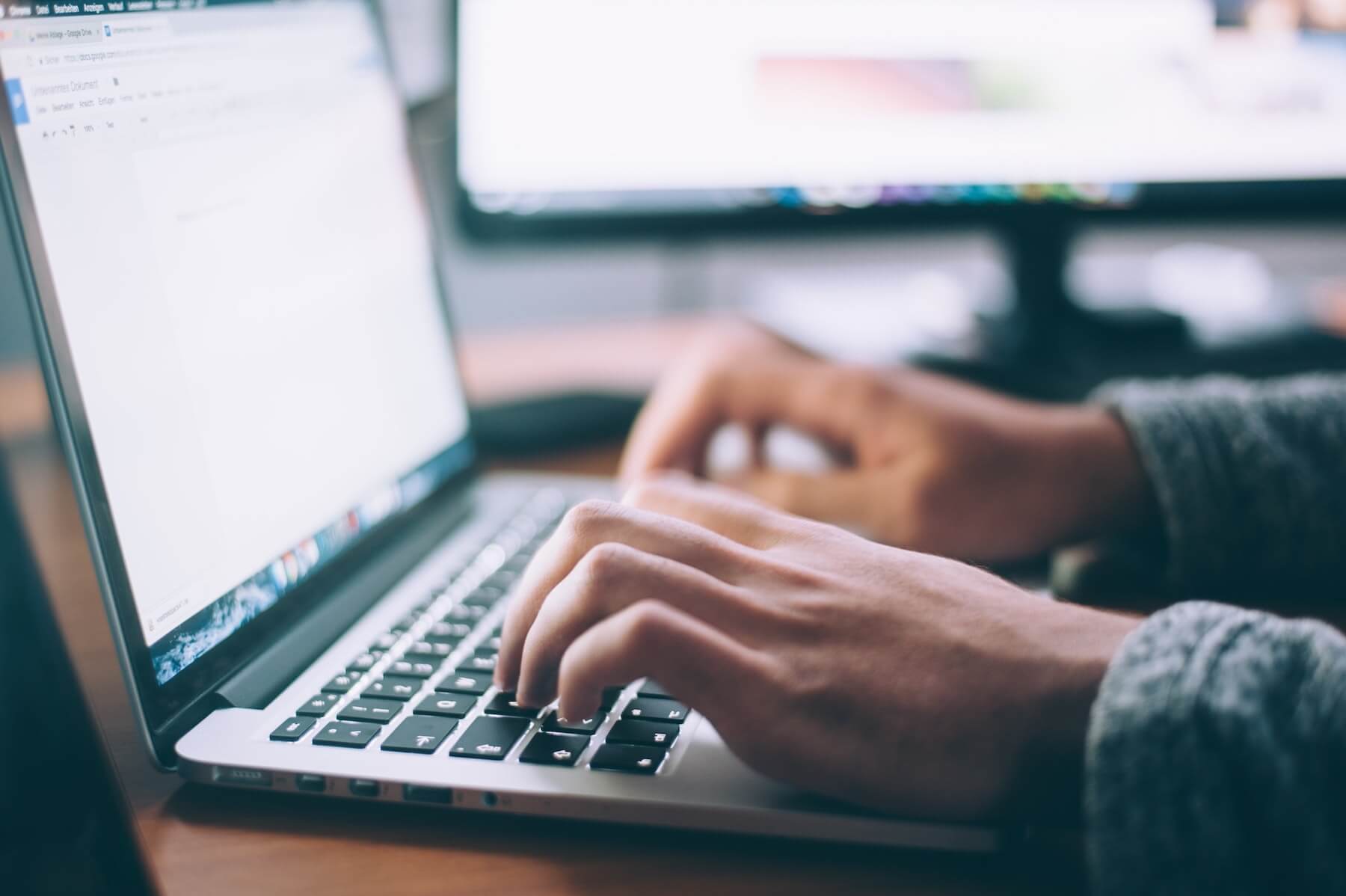 Chapter 3
Turn Up boombox
In addition to our standard boombox features, you can use the full power of digital integration with boombox+, our premium, full-service suite which includes four additional features:
YouTube Ads
Capture your audience's attention with in-stream ads played before YouTube videos. These dynamic ads engage your audience, grabbing their attention and priming them to take action.
Discovery Ads
Discovering a new product or service that's perfect for what you want and need is a good feeling. Tap into this power of discovery with your ads placed across Google feed environments, including the promotions tab in Gmail, the Google Discover feed, and the YouTube homepage.
These ads target users' interests, online activity, device information, and history, so they're perfectly primed to take action based on your messaging.
Google Geotargeting
Make sure your messages are reaching those who are most likely to take immediate action. With this feature, you can hone in on a specific location to reach qualified prospective consumers within that location.
Social Media Geotargeting
Combine geotargeting and social media to ensure you're reaching your target audience within your desired location and on the feeds they're spending the most time on. With this feature, you can hone in on your desired location and broaden your advertising reach while still targeting your ideal audience through social media ads that pop up in a user's Facebook and Instagram feeds.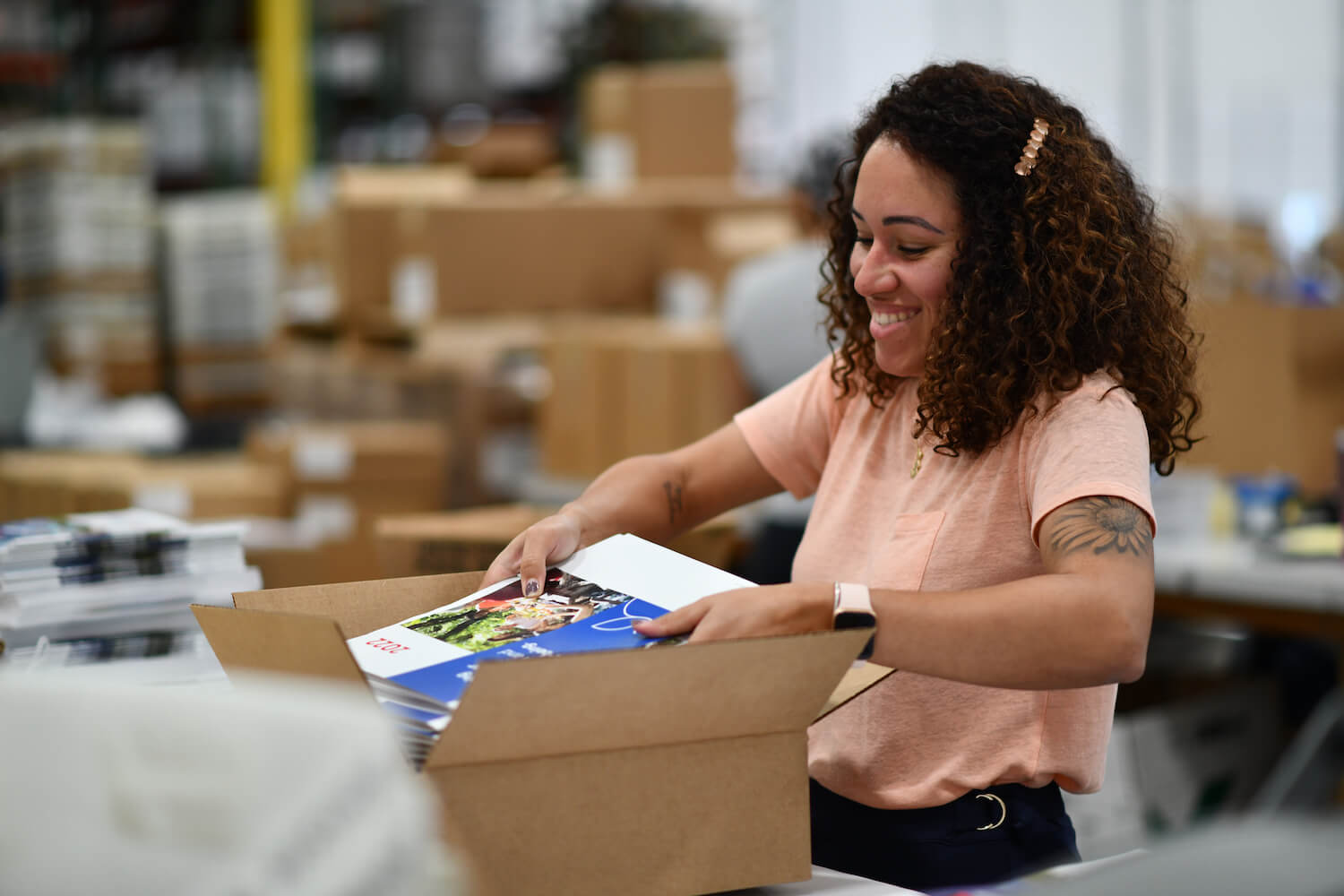 Chapter 4
How We Do It
We use a comprehensive 10-step match, track, and follow-up process that consists of:
1. Discovery
We learn all that we can about your business and then analyze your business's needs, challenges, and marketing goals to craft a boombox mail campaign that's as effective as possible.
2. Demo
We show you around our boombox direct mail platform and help you explore all of the inner workings, giving your team thorough knowledge of its capabilities as well as how it can monitor and manage your campaigns.
3. Mailing List
We work with your team to establish key criteria for the audience you wish to engage with, which helps us build a qualified and targeted mailing list. We then work with you to optimize and refine the list to maximize your ROI.
4. Planning
Our solutions engineering team builds out a custom plan for your campaign, which includes every print and digital element along with any automation triggers required.
5. Design
Your design team creates the physical and digital pieces required for a successful campaign (we can do this for you if you don't have a design team you work with). If needed, our boombox team can provide knowledgeable insights and guidance to meet best practices and optimize your campaign to ensure successful results.
6. Launch!
We launch your campaign and send out physical mail pieces to your finalized mailing list, triggering a chain of predetermined campaign activity within the boombox platform.
7. Match
Your mailing list prospects are matched to their social media accounts so that they receive targeted ads before your direct mail campaign arrives in their mailbox to help prime them for the piece.
8. Track
Your marketing team monitors the entire rollout of your campaign through our boombox dashboard using the methods established in the demo stage. The dashboard shows the delivery of direct mail and digital ads in real time along with the response rates for each.
9. Lead List
Through LEADMATCH technology, our system then builds a highly qualified lead list from all of your campaign respondents. This includes unique visitors to your website as a direct result of the campaign who didn't convert.
10. Follow-Up
After crunching the numbers on all the data that's been gathered, our team will present you with a comprehensive report on your campaign's effectiveness and ROI. Because we strive for perfection and then some, we'll also recommend the next steps for follow-up efforts.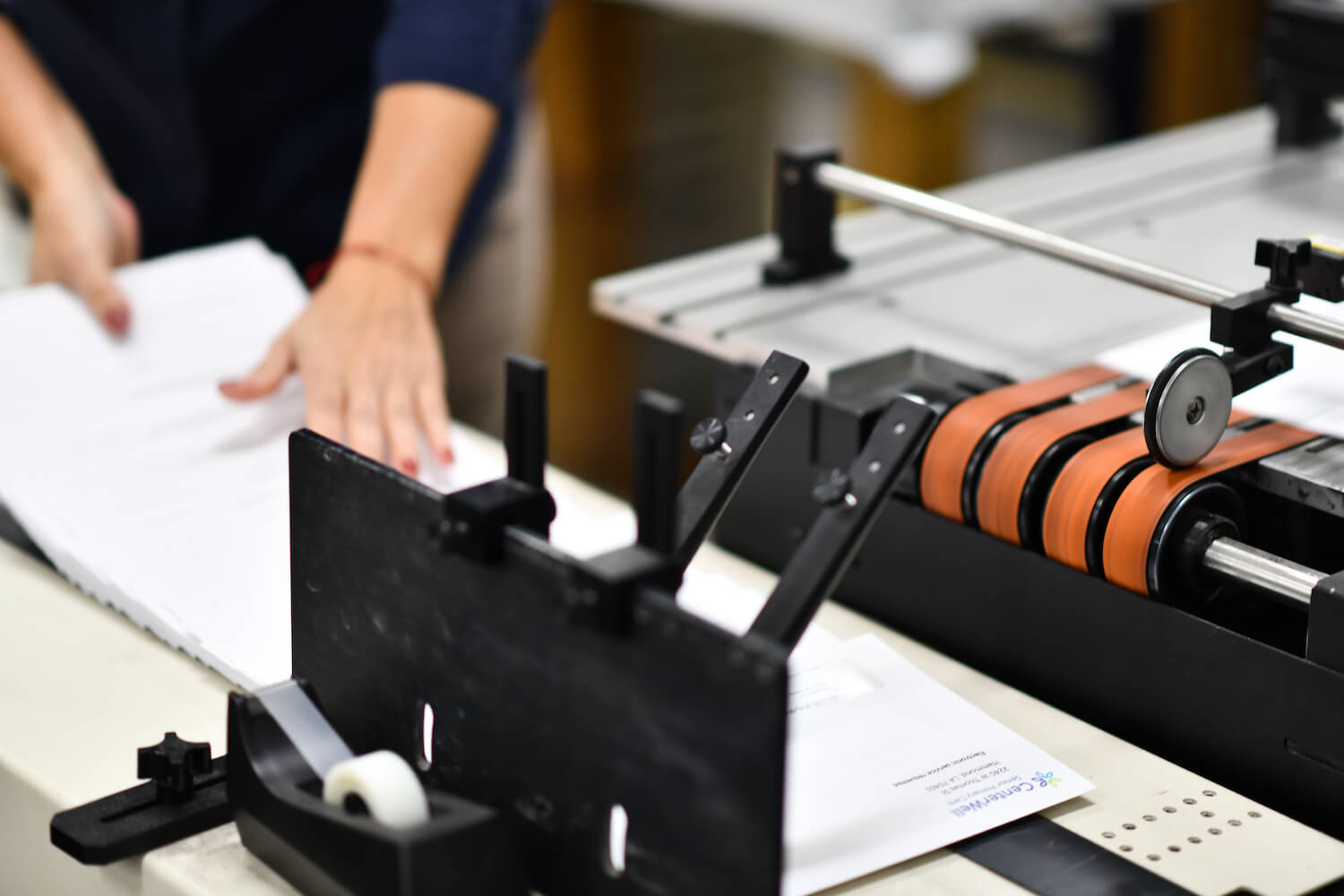 Chapter 5
Benefits of an Omnichannel Direct Mail and Digital Approach
Direct mail has several advantages, especially when supported by digital channels in our boombox platform.
Increased Frequency
Traditionally, direct mail was a stand-alone marketing effort, with a single consumer touchpoint. We have found that it takes anywhere from 8–16 touches to convince a consumer to convert. With our boombox campaigns, we are able to deliver that frequency by combining the direct mail campaign with digital overlays.
Personalization
Consumers love personalized experiences and materials. It makes them feel heard and seen. Using data on what consumers are viewing and what actions they're taking while online, you can provide more relevant content to the relevant audiences, standing out among competitors and driving conversion to your brand.
Tactile Marketing
Direct mail also enables brands to take advantage of a simple benefit: touch. Direct mail pieces offer a tactile connection with the consumer, which can lead to stronger brand recall.
This is an important differentiating factor when consumers see thousands of marketing messages each day. For example, millennials spend more time reviewing physical ads over digital ads and are highly likely to visit a store based on direct mail they've received, according to the USPS.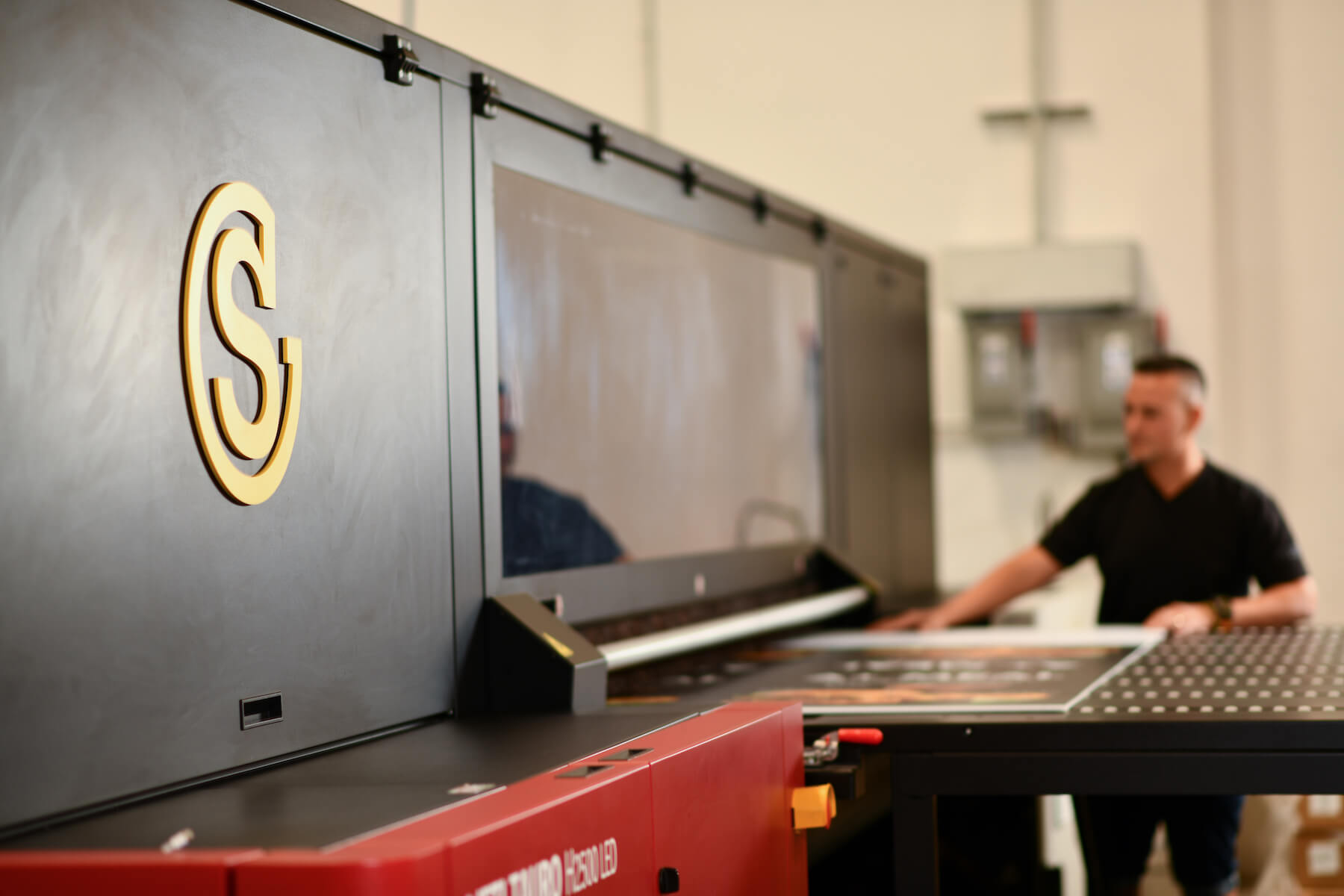 Chapter 6
Embrace the Future of Direct Mail Marketing with boombox
People are cyclical, and what's old is often new again. We've seen it with vintage clothing, vinyl records, Polaroid cameras, and now, direct mail. Direct mail marketing is leveraging the power of digital marketing to increase its effectiveness, and you want to make sure you're maximizing your marketing efforts by taking advantage of this trend. With the boombox suite of digital tools, direct mail campaigns are 23–46 percent more effective than stand-alone direct mail campaigns.
With our digital technology, you'll experience capabilities you never thought of. Track the mail you send so you can know exactly when your campaign is being delivered to mailboxes, place ads throughout the Google Network to direct prospects back to your website, reach qualified prospects within specific regions, and more. It's your marketing campaign—amplified.
Turn up your marketing efforts. Chat with us to learn more and request a demo today.
Download a PDF version of this guide by filling out the form